​​​​​​​Help to Quit Smoking is here!
In partnership with the Smoking Cessation Trust, DePaul Community Health Centers is now offering patients FREE help to quit smoking.​​​​​​​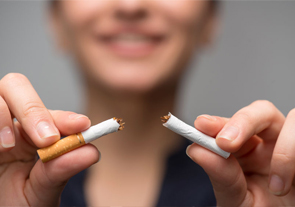 ​​​​​​​
Tobacco u
se continues to be the leading cause of preventable disease and death in the United States. Smoking can contribute to and exacerbate heart disease, stroke, lung disease and more.

Quitting tobacco can be difficult, but people who stop smoking greatly reduce their risk of dying prematurely and lower their risk of heart disease, lung cancer, diabetes and other health conditions caused by smoking.

Take advantage of FREE prescriptions and over-the-counter medications, supportive services conducted either individually or in a group, and visits with a physician or nurse practitioner to aid you in quitting smoking. Our trained professionals will work with you to plan your quit date and determine what medications and supportive services you may need.

Help to quit smoking is available! Louisiana residents who started smoking cigarettes prior to September 1, 1988 may access FREE help by contacting our Cessation Counselor today.

St. Cecilia: (504) 941-6074 x 4415 or Metairie: (504) 207-4925

Tuesday: 4:30 p.m. - 5:30 p.m. - Group Counseling (5-7 persons) at New Orleans East health center
Complete the form below to let us know more.